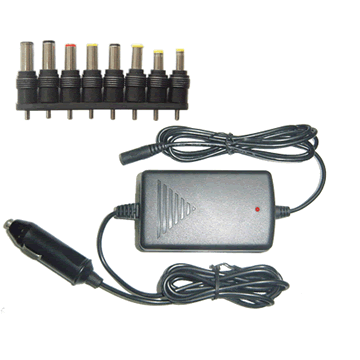 Product Description:
1. INPUT
1.1 Voltage
12V
1.2 Current
6.0A.(MAX)
1.3 Power efficiency
85% (min.) at full load, 115Vac 60Hz.

2. OUTPUT
Voltage +15V
Max. load 3.0A
Min load 0A
Regulation +/-5%
Ripple & Noise 150mVp-p

NOTE:
 . A 0.1uF ceramic and 10uF tantalum capacitors should be put
across output terminals during ripple & noise test. The scill-
oscope bandwidth is set at 20MHz and co-axial probe will be
used to measure it. The test condition is max. load and norm-
ally line.
2.1Load transient response (Step load)
Step load changes of 40% to 80% of full load. The load wave form shall
be a square wave with the slope of the rise and fall at 0.1A/uS.
And the frequency shall be from 10Hz to 1KHz. The DC output voltages will stay within regulation. Recovery time 500us max. during the step load changes.
2.2 Overshoot
Overshoot at turn on shall be less than 10% of the nominal output voltage.
3. PROTECTION

3.1 Over voltage protection
Sense level Over voltage
+15V 18Vmax.
3.2 Short circuit protection
The output short to ground, it will auto-recovery without damage.
3.3 Over current protection
The power supply should shut down when the output current at 3.5~4.5A
4. DROP TEST
4.1 Put the unit on the wooden,freely drop from the height of 1.3m
with 500g ball for 3 times,

5. VIBRATION TEST

5.1 Vibration frequency:5-60-5Hz with 10 octave/min@2.1G
5.2 Three circles per axis(X,Y,Z) for 10minutes
6.ENVIRONMENT:
6.1 Ambient operation temperature
0℃ to +40℃
6.2 Ambient operation relative humidity
20% to 85%
6.3 Ambient storage temperature
-40℃ to +70℃
6.4 Ambient storage relative humidity
10% to 95%
7. MTBF
40,000 hours base on bellcore TR332 document required at 25℃.

8. Dimension
Outline dimension: 99.5x57.0x33.0mm MAX;

Pre:3.7V 3A Li-ion/Polymer charger Next:9.6-18V 0.9/1.8A NIMH charger